419-666-3222
Ampoint Distribution Services provides total third party logistics (3PL) services at the right location. We combine over 20 years of experience with state-of-the-art technology to provide flexible, same day service to our group of regional, national and international customers.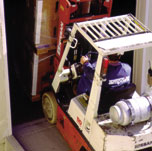 Some Advantages of Third Party Logistics (3PL)

Control costs
With multi-vendor consolidation for single truckload deliveries, costs are shared per truckload, reducing the costs you pay to deliver goods.
By outsourcing to a qualified third party logistics company, our employees act as an extension of your company, freeing up your employees to concentrate on your business needs.
With long or short term contract warehousing, pay only for the warehousing space you need. Have the flexibility to stock more merchandise during your peak season, meeting your higher customer demand. Store less merchandise when your demand is lower, during your "off" season. 3PL with contract warehousing offers your business a flexibility that maintaining your own warehousing facilities doesn't.
Highly Competitive Pricing – Because you are "sharing the load" with other companies, a third party logistics facility and warehouse like Ampoint helps you become more competitively priced.

Industry expertise
Ampoint's 3PL services specialize in providing products from many different industries, including:

Products Handled:
Food/Grocery

Beverages

Paper

Electronics

Packaged Products

Raw Materials

General Merchandise

Non-Hazardous Chemicals

Tires

Document Storage

We have a 2.5 million square foot warehousing complex to store and handle various products from many different industries. If you need it stored or transported, check out the services we can offer:


Services:
Pick/pack Repackaging Services

E-Commerce Fulfillment

Reverse Logistics

JIT (Just In Time Shipping)

Railroad Loading/Unloading (CSX)

Ampoint's third party logistics (3PL) services can be your partner to deliver the goods for you.
See our location page for our close proximity to major interstates.
Ampoint Distribution Services is a member of the International Logistics Warehouse Association, Warehouse Education Research Council and The Council of Logistics Management
Latest in Material-handling Devices and Equipment
Lot, Batch, Serial Number, Date Code Control
Computerized Inventory Management
Cross-docking
For information contact Mike Schlegel at 419-666-3222 or email at mschlegel@ampoint.com.