Ampoint is the Center for Warehousing, Logistics & Industrial Space Leasing in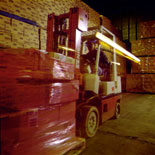 Northwest Ohio.
Ampoint Industrial Complex covers over 600 acres of prime real estate located 1/4 mile East of I-75 and 1.3 miles North of I-80/90.
Take a look at our Location page to see how centrally and conveniently located Ampoint is. We are within 500 miles of over 40% of the United States population.
Our Mission is: To exceed our customers' and our customers' customers expectations in service, cost control and creativity.
Ampoint is a multi-faceted logistics and industrial space leasing company with over 2.5 million square feet which can accommodate a variety of users. Our service includes state-of-the-art technology and a dedication to exceeding the expectations of our customers. Check our Third-party Logistics Services page for more details.
24-hour Security Monitored
Early-supression, Fast-response Sprinkler System
Sanitation services ensure Ampoint is kept clean and pest-free
High Bay
Food-grade
For information contact Mike Schlegel at 419-666-3222 or email at mschlegel@ampoint.com.